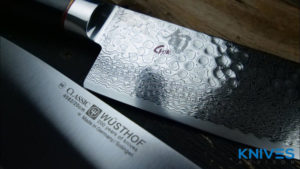 When choosing which knives to buy as part of your kitchen equipment, it makes sense to compare the advantages and disadvantages of some of the leading brands. Two of the best knife manufacturers are Wusthof and Shun. There are pros and cons to the knives manufactured by each of these brands, and these may influence your decision of which knives will suit you best. Here is a comparison of the knives produced by Wusthof and Shun, including a comparison of their blades, handles, overall performance, and their price.
About Wusthof
Wusthof is a German manufacturer of kitchen knives, pocket knives, kitchen shears, and a range of cooking accessories. The company was founded in 1814 by Harald and Viola Wusthof and is based in Solingen, Germany. This company has won many awards and accolades for the quality of the knives they produce and they are widely regarded as one of the best knife manufacturers in Europe.
About Shun
Founded in 2002, Shun Cutlery is one of the newest knife manufacturers. This company is based in Tokyo, Japan, and is part of the KAI Group. Despite being a relatively new brand, Shun has already received rewards for the innovative design of their knives. The knives are made in Seki City in Japan and are then distributed to 30 countries across the globe.
Read our complete review of Kai here
Blade Design and Performance
When comparing the blades of knives from both these brands, Wusthof is a clear winner. Shun blades are thinner and lighter than Wusthof blades, but they are also made of harder steel. This means that Shun knives are prone to chipping and do not retain their edge for as long. Therefore, Wusthof blades have better edge retention and are more durable than knives manufactured by Shun. The German brand also wins in terms of sharpness as they are cut at a lower angle than their Japanese competitors, thus giving the blades a sharper edge.
Handles
Both Wusthof and Shun use a variety of materials for the handles of their knives as the handle designs differ from one range to the next. The wooden handles of the knives in several of Wusthof's ranges are crafted from 'Grenadill' African blackwood. The materials used for their other ranges include polypropylene, polyoxymethylene, and Richlite. Most shun knives have handles made from synthetic materials, such as polypropylene, thermoplastic elastomer, or Micarta. The ranges with wooden handles use either pakka wood or tagayasan. Which style and material you prefer is entirely down to your personal preferences. Wusthof knives have a full tang and a bolster for safety and this may sway you towards the German brand.
Aesthetics
The appearance of both brands' knives shows that they are quality items, but they have very different styles. Wusthof produce five knife ranges that each vary slightly in appearance, but the general style is traditional Western. Many would argue that Shun knives have greater aesthetic appeal and this brand has won awards for the unique and elegant designs of the knives in their 112 knife ranges. Some of Shun's knife blades have a Damascus-style pattern.
Price
For many people, the price of knives is an important element of deciding which brand's knives to buy. Wusthof and Shun are both in the same price bracket at the higher end of the market as both brands produce high-quality knives. There are many other brands that are cheaper than Wusthof or Shun, but they do not necessarily have the same level of quality. Although you may pay a little more to own Wusthof or Shun knives, you are paying for beautiful knives that perform to an excellent standard and will last you for many years to come.
Final Verdict
Shun and Wusthof are two brands that produce several ranges of high-quality kitchen knives and both have features that make them worth considering. Overall, the better choice is probably Wusthof knives. The knives produced by the German manufacturer are sharper, more durable, have better edge retention, and superior handles. However, if the visual appeal of the knife has more bearing on your decision than the performance, then you may wish to opt for Shun knives.