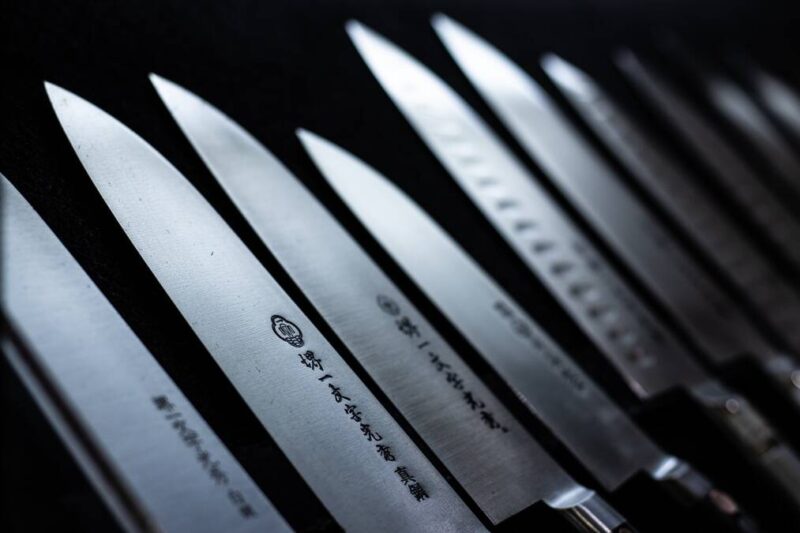 The culinary world is an entirely different universe with its own set of rules and cultures. Some cooks prefer to do things a certain way, while some scoff at others who cling too much to tradition.
But one idea that is almost universal in the kitchen. A Japanese knife will always be one of the top choices when picking knives.
The sheer quality and craftsmanship of these knives are top-notch, which means that their prices are just as high. Here we take a look at why Japanese knives are so expensive.
The 3 Main Reasons Japanese Knives Are So Expensive
Materials
Perhaps one of the clearest reasons why Japanese are so expensive is quality. Indeed, these knives are made using some of the highest quality materials out there.
It's a mistake to think that most knives are constructed in the same way. Japanese knife makers pride themselves in their usage of the highest quality steel, as well as their ability to mold it into some of the best knives available.
These knives also often use high-quality carbon steel versus the usual stainless steel you find on more commonly available knives.
This gives Japanese knives some of the toughest blades in the market. As a result, they are able to withstand long periods of use while keeping its cutting edge razor-sharp.
Some of the processes found in a Japanese artisan workshop take days to complete. As a result, many of these knives won't be in large supply. This also means that most of the well-made Japanese knives have extra attention to detail that most common kitchen knives just don't have.
The attention to materials goes beyond the blade as Japanese artisans often focus on enhancing the quality of their handles as well.
Often times you'll see Japanese knives use durable multi-layered Micarta. This allows for a clean wood-like design while keeping the hardiness of resin.
Some of the higher-end Japanese knives use even more exotic materials, like deer antlers or Pakkawood. Similar to Micarta. These use a composite of resin and other wood materials. Pakkawood is primarily found on durable knives that see a lot of wear-and-tear.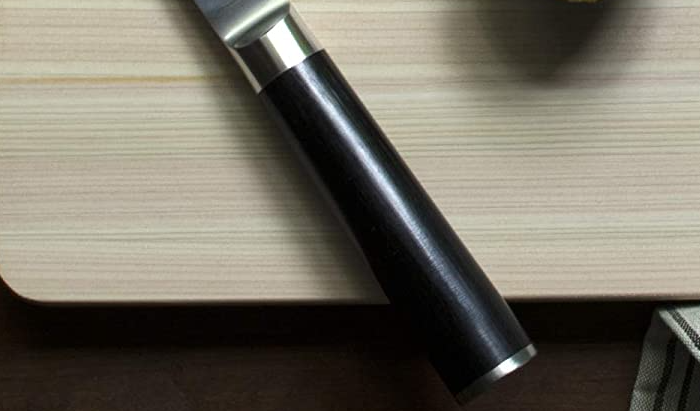 Design
Another key feature of most Japanese knives is their meticulous attention to detail. This comes in how they design their knives, from blade finishing to the handle.
The most common design you'll see on the blade is called a "Damascus finishing." While before it meant that the steel used comes from Damascus, it reflects on the specific wave design that the Japanese often use on a knife blade.
Damascus blade finishing has taken many forms over the years. It ranges from the standard waves you might see from traditional designs to more modern takes like rays or intricate patterns like fish scales and animal prints.
We mentioned that the handles use durable composite materials like Micarta and Pakkawood. These materials also allow knife makers to layer different designs on top of each other, creating unique patterns and effects that most common knives can't recreate.
Some craftsmen like putting an exclusive trademark signature on some of the knives they create.
This can range from signatures of authenticity on the blades to embossed emblems anywhere on the handle or pommel. If you're keen on a specific Japanese artisan, getting an exclusive knife by then certainly increases its value.
Prestige
Like anything expensive and well made, it eventually becomes a reality that some people will collect these knives for the simple joy of having them.
Chef owners see these knives as an investment in every sense of the word. Big-time collectors treat some of the rarest Japanese knives with the same adoration and obsessiveness as a Louis Vuitton bag or some rare art object obtained at an auction.
A Japanese blade almost doubles as an art piece in its own way.
The design and exclusivity that comes with a limited edition knife set certainly carry a pedigree compared to the casual kitchenware you find in your neighborhood grocery.
Having a Japanese knife is an undeniable status symbol amongst many cooks. That said, skill will undeniably speak louder than any price tag attached to your tools.
Still, one can't deny that these knives will certainly bring a je ne sais quoi to how you cook.
Conclusion
Japanese knives have been expensive for quite some time, and it's a good guess that they will probably stay that way.
You don't have to be a sushi chef or professional cook to see how the blade is crafted to how the knife overall is finished, and conclude for yourself that some things just demand a higher price.
That doesn't mean you can't get a good knife from more affordable sources. What it means is if you're a discerning enough buyer with the money to spend, you can surely justify why a blade like this would cost this much.